How Michael Makhal popularised Mozart and Bach to Indian Weddings along with the famous tunes of Hans Zimmer and Jon Williams. And, of course, the Bollywood Symphonies and evergreen Pop numbers are in the repertoire too.
Wedding in India is not less than any festival. The whole family celebrates the wedding for at least a week nowadays in India. And, such wedding in the family naturally makes it an occasion for great food, gorgeous outfits and lovely live music. Regional music and traditional rhythms are unbreakable part of any Indian wedding no matter its from which community or from what part of the country. However, as Indians have a very sophisticated taste of music, it has been noticed that western music and band music always took a large scale part in Indian wedding receptions, especially, to create a classic ambiance for the guests.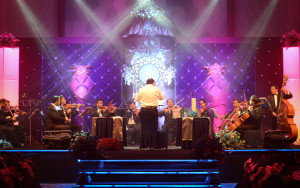 As the venue and line-up of menu expanded over the years, the same happened with the live music scene in Indian weddings. In the 21st century, it has been observed that most Indian weddings opted for live bands starting from 5 to 10 members for live Bollywood song performances. And along that, the taste of some families with a bit more classy choice brought upon The Grand Symphonic Orchestra, which consists anything between 15 to 50 or more musicians in the orchestra and perform only instrumental music.
This grabbed the attention of internationally known Western Classical Musician – a Violinist, Composer and Conductor from India Michael Makhal and he realized that Indian weddings have great potential for large Crossover Western style Orchestra if presented well. He initially thought of a repertoire he has been used to with private concerts in Calcutta which contains only Light Western Classical and Pop numbers. He even began his first wedding concert for his good friend Shiv Narayan with such numbers of Mozart and Strauss as Shiv and his wife Rouhini are avid lovers of western classical music. So, it was a perfect match for everyone in a perfect time – Michael calls it a 'Miracle'. However, Michael soon realized that, he needs to make some changes in the repertoire in order to reach out to more weddings.  So, he began to add famous Hollywood numbers such as Pirates of The Caribbean, Jurassic Park, The Sound of Music, James Bond themes and such tracks in repertoire which caught the eyes of the youth quickly. And along with that, he introduced evergreen Bollywood songs old and new numbers in a symphonic instrumental manner, which caught the attention of all age group in no time. The biggest USP of Michael's Symphony has been 'the approach', its elegant and very soothing even if the orchestra contains 40 to 45 members. Michael says, sometimes new clients are a bit reluctant to have a large symphonic orchestra, but after seeing the videos they understand how royal and classy a Symphonic performance can be in a wedding reception, far better than loud singing and dancing atmosphere, which often overdo in a cool evening reception. A symphonic performance in a wedding reception not only serves as a great live music option, but also creates an international ambiance and atmosphere matched to none – 'grandeur' would be the perfect word for it.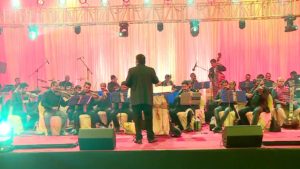 The journey Michael began in the year of 2012, today got him to almost every corner of the country and performing for weddings of all kind of community and traditional background. The ensemble was even invited by a renowned Indian businessman in Dubai for his son's wedding reception at the Atlantis Ballroom. In each wedding, Michael leaves their melodious mark to the heart of every guest who often refer them to others and gives strong recommendations.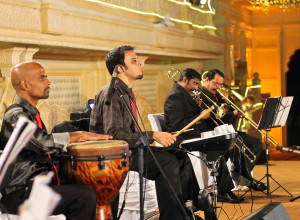 The Grand Orchestra performs for Michael has musicians from all over India, 15 to 50 highly professional players, all hand-picked by Michael and assembled proficiently for each wedding based on the theme and design. There is probably no other private orchestra in India which caters in the wedding industry has musicians from all over the country. Michael believes, doing meaningful music in weddings is the best way of spreading rich music to the society. People love the Serenade of Mozart, the theme of Titanic and Game of Thrones but many of them don't know how those pieces are played live in a large ensemble and when they see us playing them, they look at us with astounded expression in the face. 'I often look back while conducting to relish those expressions. I count them as my priceless reward'  – Michael exclaims.
VIDEOS