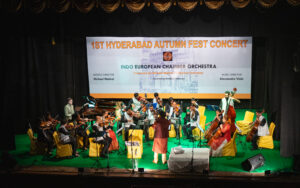 OUR STORY
In 2018, Michael Makhal, an internationally known Indian Composer and Conductor, launched the 1st Autumn International Music Fest & Masterclasses in Hyderabad with the collaboration of European stalwarts Maestro Alessandro Viale (Concert Pianist & Conductor), Rebecca Raimondi (Violinist) and Urška Horvat (Cellist). The Workshop culminated with a Concert on 28th October 2018 at the Ravindra Bharathi Auditorium. The Fest in 2018 saw music students attending from various states of India and participated the masterclasses.
AUTUMN INTERNATIONAL MUSIC FEST & MASTERCLASSES HYDERABAD 2024
The Autumn International Music Fest & Masterclasses is coming back in 2024, tentatively at the end of October and will go on till the first week of November – around 1 week. The Autumn Fest is returning with a new purpose and concept altogether. Our primary goal is to make Hyderabad the hub of Classical music festival in India and the fest will see an unique collaboration of Indian and Western Classical music both. The founder and creator of the Autumn Fest, Maestro Michael Makhal is known for his Raga based orchestral compositions and his international endeavors on intercultural orchestral performance in India and Europe. In the Autumn Fest 2024, we would see his vision of having an educational yet thrilling musical confluence that would celebrate both the cultures – Indian and Western classical music in a holistic manner and uphold the message of friendship and unity through music.
This concept of intercultural music program would welcome young music talents, music ensembles and students from the western world to India. The participants would be offered to learn the nuances of Indian classical music under the guidance of renowned Indian classical musicians and stalwarts as part of the program. In one hand, they will learn the root and nuances of Talam and the mystic structure of Ragas, on the other hand they will perform Raga based composition of Maestro Makhal in the finale concert along with the works of legendary European composers namely, Mozart, Bach, Vivaldi and Beethoven. Even for the local audience and music lovers the finale grand gala concert would be something very special.
Along with Indian music students, we wholeheartedly welcome international institutes, music schools and students to participate in this culturally very deep and rich event and gain a lifechanging experience with us in our incredible India, and also, make unforgettable memories that you will cherish forever.
For further information, please fill up this form and we would get back to you soon: Coming Soon
You may also email us at: makhalsymphony@gmail.com