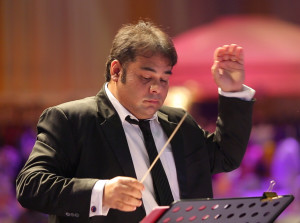 "Music, Faith and Family is everything to me. I enjoy composing music, teaching students, performing and sharing music with everyone. Me and my wife Sudeshna love to explore the World, we are avid travelers. I am currently working on few very interesting International projects, composing chamber music and crossover symphonies for some amazing orchestras and talented International artists.
I am also very excited on our first International Music Fest in India – the Autumn International Music Fest & Masterclasses Hyderabad 2018, being presented by 'Michael Makhal Symphony Orchestra' in collaboration with my great friends and European stalwart musicians Maestro Alessandro Viale, Rebecca Raimondi and Urska Horvat. We are also launching the 'Indo-European Chamber Orchestra in the Fest with a gala concert at Ravindra Bharathi Auditorium."
– Michael Makhal
Michael Makhal (ALCM) is a Western Classical Violinist, Conductor and Music Composer from India. He is an Associate of London College of Music – University of West London in Music Literacy (Music Composition). Michael was born in a musical family in Kolkata. Ananta Makhal, his father, was an eminent Violinist and the Conductor of Calcutta Chamber Orchestra and OM Orchestra. Michael also works in South Indian Film Industry, plays Violin, Composes Songs and Soundtracks for Movies.
Recently, Michael's new work the '1947 Summer of India' for Cello solo and String Orchestra had it's World Premiere in Italy at the 8th Luci Della Ribalta International Festival in Narni, on 29th August 2018. This is for the first time the Festival preformed any Indian composition. This is certainly among very few occasions in the history when an Indian piece has been World Premiered in Italy, especially, a work dedicated for Cello solo and String Orchestra. It is a rare sight in Europe to witness music written for Western Classical Orchestra by any composer from India being performed or premiered in their concerts and fests. The premiere was a great success, people applauded for minutes.
The piece is partially based on the structure of Raag Bhoopali and presents the essence of Free India and the Joyful environment around the whole Nation in 1947. This is very rare to Indian Folk styled music has been written for Western Classical Music Orchestra. Thats the specialty of my work and purpose of my composing career – to compose Indian Classical Music based on Raaga and Indian Traditional Folk Music for Western Musicians and Orchestras under sonatina, ensemble, big chamber and also, symphony structures. I want to make Indian Classical music style accessible to Western Musicians and anyone can perform with ease just how they play classical music.
The World premier of 1947 Summer of India witnessed unbelievable success with applause that wouldn't stop for minutes. And became the talk of the evening in the town of Narni. The Indian folk styled piece blending with Western orchestral structure was highly appreciated by one and all in the audience. Highly reputed Conductor Maestro Alessandro Viale accepted the role of conducting the piece himself in the gala concert. The solo was performed by young Serbian Cellist Vuk Ovaskainen, who rendered the solo with thorough detail and perfection. The Concert Master of the String Ensemble was Kolkata born Violinist Apratim Nayak who was also one if the 11 Indian participants in the Festival.
Michael's first notable success came as a Western Classical Music Composer, when he won the selection of representing Indian Commission at the Commonwealth Games 2014 as a Composer. He has been chosen by 'The Scokendia Ensemble' (Glasgow Cultural 2014) through an International contest and commissioned professionally to compose/write a fresh piece for the ensemble, which he named The Spirit of India and had been performed during the Commonwealth Games 2014 at Glasgow – Scotland in several venues, having its World Premiere at the prestigious Stevenson Hall on 25th July 2014.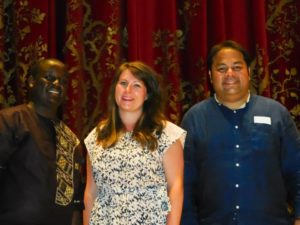 If we rewind to Michael's past: He performed his first concert at the age of 11 in a Calcutta Church and débuted as a soloist at the age of 15 performing the Vivaldi concerto for two Violins in A Minor. At the age of 17, he became a member of the Delhi Symphony Orchestra, becoming the youngest member of the most prestigious Symphony Orchestra in India. In addition to being regular with the Delhi Symphony Orchestra, Michael appeared with the East-West Orchestra, the Mathieson Music School Orchestra, Bangalore School of Music Orchestra, Calcutta School of Music Orchestra, as well as the Opera Concert – 'The Fakir of Benaras' presented by the Neemrana Music Foundation. In 2007, he participated in the prestigious event Asia Orchestra Week and represented India through the Delhi Symphony Orchestra. Presenting as the first Indo-Sri Lanka Goodwill Orchestra, the group performed a concert at the Tokyo Opera City concert at the Tokyo Opera City Concert Hall, conducted by Maestro Hikotaro Yazaki.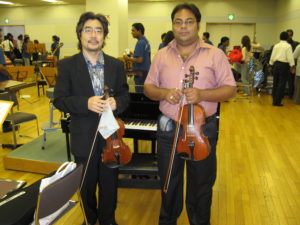 In 2012, Michael formed his contemporary orchestra for public and private events, which is among the very few professional orchestras in India and the first one to be available for all kind of private events. The 'Michael Makhal Symphony Orchestra' has been performing around the country in esteemed private concerts, also in abroad by performing at Atlantis Ballroom in Dubai- UAE. Michael's objective is to make Western Classical Music fully accessible to the common people in India. He believes Indian music lovers have a sophisticated sense of music and can adopt other musical culture traditions – Western Classical Music is very well praised by the contemporary India and will have bigger audience in coming days.
​As a composer for original music in films, Michael did quite a few projects, but his recognition came when Indian film maker Jennifer Alphonse's short film 'Strangerssss' got selected at the Cannes in 2014 for World Premiere, which was scored by Michael. Well known Indian actor Pitobash Tripathy did the lead. The film received number of national and international awards since 2014.
Michael is also an avid traveler, he often fly off with his wife Sudeshna. They have a popular travel blog/website called Bonjour Zindagi.