Registration for the Audition process for the Grand Budapest Concert 2023 is now Open!
Registration: All interested candidates must register first in order to appear for the audition. Here is the form: CLICK HERE
"The very prestigious Indo-European Yout Orchestra is the first Indian orchestra to perform in Europe. The concert was first held at the Danube palace hall on 18th August 2019 in Budapest, Hungary. The Grand Budapest Concert project is an opportunity not easily found, finely curated by Maestro Michael Makhal – it is the greatest musical and cultural adventure for western classical music students and advanced-level musicians from India and around the world."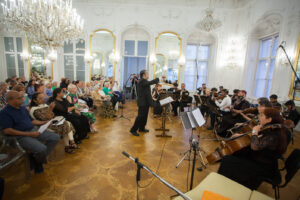 We are very excited to inform you that, we are preparing for the 3rd edition of our Grand Budapest Concert in Budapest, Hungary in August 2023. The Indo-European Youth Orchestra will once again enthrall the audience of Budapest with a great lineup of extraordinary pieces that include (tentatively) the work of Dvorak, Tchaikovsky, Bach, Elgar, Mozart, Tagore, Michael Makhal, and more. This year in August, we had the Grand Budapest Concert at the Festetics Palace on 14th August 2022. Indo-European Youth Orchestra (IEYO), an ensemble of its own kind, performed in Budapest with selected talented musicians from different parts of India, and also, citizens of the USA, Australia, South Korea, and Hungary. It goes without saying, Indo-European Chamber/Youth Orchestra has successfully made a mark for itself on the map of global chamber/youth orchestras. Our young musicians indeed came back home with a treasure of knowledge, experience, and motivation unparallel to anything. We are extremely glad for the contribution we could make to the lives of these young performers. The concert at the Festetics palace this year was as thrilling for the audience as for all the musicians, everyone enjoyed it from their heart and the audience showered applause generously.
Young musicians always learn the best when they perform with orchestras, they get inspired by their fellow musicians and get motivated to do music with a true passion. Our main goals for this concert and workshop project are to inspire young talents to fall in love with music and do music to the best of their ability, also, gain invaluable experience from playing in an international concert with musicians from different parts of the world including professionals, and be more confident, creative and also, get trained to be a great team player.
Gallery: Click Here
Registration: All interested candidates must register first in order to appear for the audition. Here is the form: https://forms.gle/VttLPnmg8ieAe57o6
Email: makhalsymphony@gmail.com